Breve disco-biografia dell'artista/i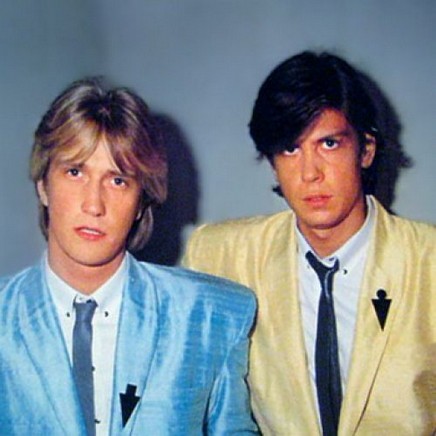 The Twins
(letteralmente:
i gemelli
) è un gruppo musicale tedesco di genere synth-pop degli anni ottanta costituito nel 1980 a Berlino Ovest da Sven Dohrow (nato a Berlino il 28 settembre 1957) e Ronny Schreinzer (nato a Berlino il 21 marzo 1958), musicalmente ispirati da artisti britannici come Gary Numan, Tubeway Army, Orchestral Manoeuvres in the Dark, i primi Depeche Mode, The Human League, gli Yazoo e gli Erasure. Sven e Ronny andavano a scuola insieme e facevano parte di band diverse della stessa scuola, che loro stessi avevano creato.
Nel 1980 decisero di unirsi e creare un unico duo i "The Twins", nome da un'idea di Ronny condivisa da Sven. La loro carriera iniziò con il singolo
Runaway
arrivato al primo posto nella classifica tedesca. Dei singoli successivi, i più famosi in Italia furono
Face to Face, Heart to Heart
, quinto in classifica,
Ballet Dancer, Not the Loving Kind e Love System
. Nel 2006, i due realizzarono
Ballet Dancer (Latino Mix)
, che raggiunse la quarta posizione nella classifica tedesca.
The Twins
12 Inch Classics And Rare Tracks
The Twins
12 Inch Clasics-the Original Maxi Hits
| | | | | |
| --- | --- | --- | --- | --- |
| | | | | Offerte musicali e strumenti |